About Our Georgia CPA Firm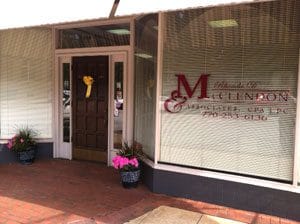 The McClendon Group, CPA, PC is the oldest continually practicing CPA firm in Newnan, GA. We have been in Newnan for more than 30 years. We are also the only firm in Newnan that has a full-service accounting department.
We determined years ago that it made sense for us as a trusted business advisor to offer business consulting, bookkeeping/write-up, and sales tax preparation services. We also produce monthly financial statements for our clients (balance sheet, income statement, statement of cash flows, retained earnings, general ledger, etc).
Our Georgia CPA firm's team personally pledges to all clients, old and new, to continue to provide timely and effective service. Through education, training, and experience, our CPA's and professional staff have a broad and clear understanding of all areas of accounting and tax preparation, both in regard to Federal and State tax law.
Sufficiently stated, our firms philosophy is to provide the best service possible to our clients and assist them in their financial planning, operations and interaction with various governmental agencies.
Our Memberships
American Institute of CPA's

Georgia Society of CPA's
Our Certifications
Authorized e-File Provider

Certified Quickbooks 2014 ProAdvisor
Peer Reviews
These are performed by another accounting firm and are required in order to maintain and improve the quality of a CPA firm's accounting and auditing services.